Order Pinwheels and Other Resources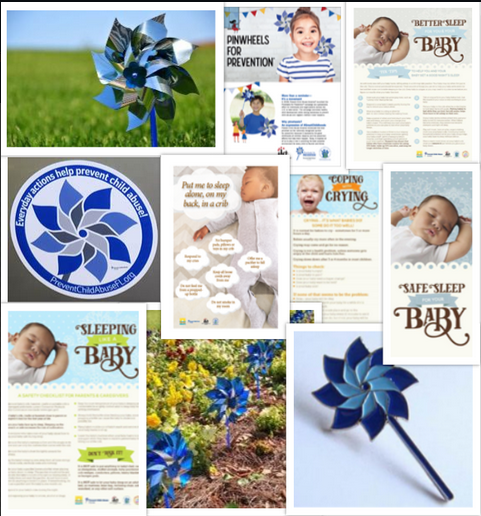 Offering Pinwheels for Prevention campaign resources and printed materials focused on healthy child development and important safety topics.
If you provide social services directly to children and families, you may be entitled to a discount on your purchase of pinwheels. Please call Nydia Ntouda at 850-921-4494, extension 202, to obtain your discount code.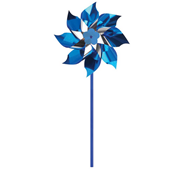 The pinwheels are blue and silver and measure 12" in height with a 7" diameter and are affixed to a blue stem. The pinwheels are intended for display purposes only. WARNING: CHOKING HAZARD—Small parts. Not recommended for children under 3 years.
(boxes) - Minimum Order 1 box (240 pinwheels)
$250.00 per box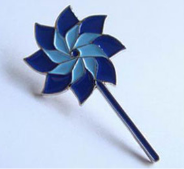 The lapel pins are 1-3/8" in height, made from Zinc alloy die casting with enamel, have butterfly clasps and come in individual poly bags.
(pins) - Minimum Order 10 lapel pins
$3.50 per pin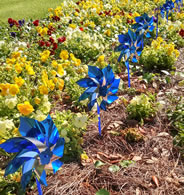 Microgarden Pinwheel Pack
Now small businesses and individuals can champion healthy, happy childhoods by planting a pinwheel garden. This kit includes one yard sign and 25 blue and silver pinwheels, bringing the cause to even the smallest office suite or home. Buy now to support the Campaign for Great Childhoods during Child Abuse Prevention Month. (Limited quantities available. Expected to ship in March.)
(packs)
$49.99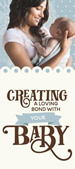 Creating a Loving Bond with Your Baby Brochure
The bond between parent and child is one of the strongest connections in nature. Whether you're a biological mom or dad, an adoptive parent or a stepparent, it is important for your child to form a strong bond with you.
Quantity
FREE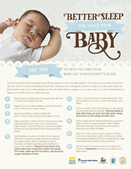 Better Sleep for You and Your Baby Tip Sheet
As with evey new skill your baby learns, falling asleep in a crib may take practice.
Quantity
FREE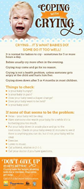 Coping with Crying and Safe Sleep Rack Card
This rack card features highlights from our Coping with Crying flyer on one side and safe sleep tips on the other.
FREE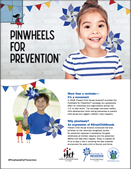 Pinwheels for Prevention Campaign Educational Flyer – This colorful, double-sided flyer are just what you need to educate partners and communities about the Pinwheels for Prevention campaign during Child Abuse Prevention Month. It's the perfect one-pager to leave behind after a community speaking engagement or at local businesses participating in the campaign. (Note: The customizable, digital file is available in the CAP Month Toolkit for you to have printed on your own. When you order here, you will receive printed flyers with PCA Florida contact info printed on them.)
FREE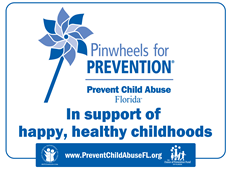 Yard Sign
(signs)
$25.00 per sign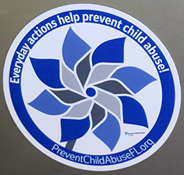 Pinwheel Magnet
Show your commitment to ensuring all children have the great childhoods they deserve with one of these Pinwheels for Prevention magnets! It's perfect to display on your car during Child Abuse Prevention Month, put on the office refrigerator or decorate your filing cabinet. (Measures 5.5 inches.)
$5.00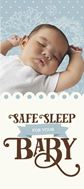 Safe Sleep for Your Baby Brochure
FREE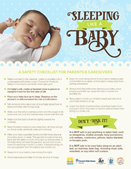 A Safety Checklist for Parents and Caregivers
FREE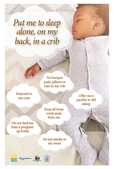 Sleep Talker Posters are poster size graphics designed for use on walls or any flat surface to promote Safe Sleep practices.
Quantity (Maximum available 10)
FREE